In Anglia, sunt cateva tipuri de camere de viteza care functioneaza diferit si in diferite conditii. Fie ca esti de acord cu ele sau nu, ar trebui sa stii niste informatii legate de ele pentru a te asigura ca mergi fara stres pe strazile de aici, neincalcand nicio lege.
TIPURI DE CAMERE DE VITEZA
In acest articol vei afla, pe scurt, cate tipuri de camere de viteza exista in Anglia si cateva informatii utile despre cum functioneaza acestea.
Poate te intrebi de ce avem nevoie de ele. Raspunsul este in statistici. In fiecare an, pe strazile din Marea Britanie, mor aperoximativ 400 de oameni, iar 2500 sunt grav accidentati din cauza soferilor care merg prea repede.
Royal Society for the Prevention of Accidents (RoSPA) spune ca depasirea vitezei legale este cauza a 12% din accidentele minore din trafic, 15% din accidentele mai serioase si 26% din persoanale decedate pe sosele.
Camera de viteza fixa (Gatso)
Gatso (foto1) se numesc si sunt cele mai frecvent folosite camere in UK. 
Prima camera pentru viteza a fost instalata in 1992 la podul din Twickenham, pe A416. Viteza pe care nu aveai voie sa o depasesti era de 60 mph.
Dupa 3 saptamani de la pornire, camera a prins in jur de 25000 de soferi care mergeau cu peste 65 m/h.
Acest tip de camera nu interfereaza cu soferii,  functionand doar dupa ce treci de ea. Este cea mai "populara" camera din Anglia si seamana foarte mult cu locul doi, camera Truvelo (foto 2). 
Camera Truvelo arata, in mare, la fel ca Gatso doar ca ea este cu fata la conducatorul auto, facand fotografie soferului care depaseste limita.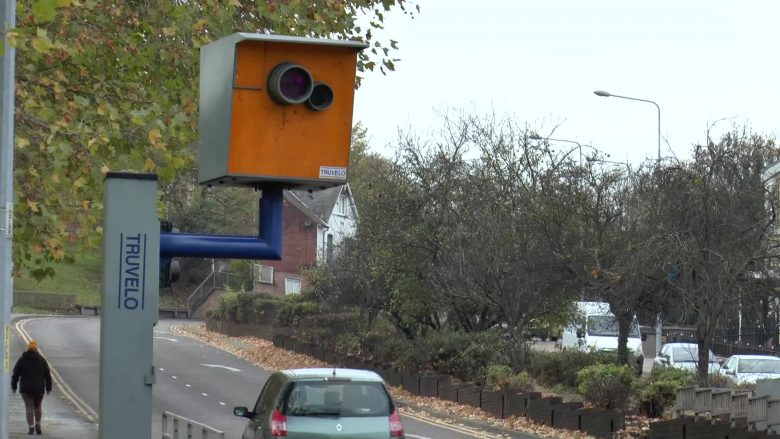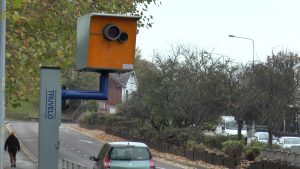 De cele mai multe ori, politia locala este cea care demareaza astfel de actiuni. 
Deobicei, se plaseeaza in zonele unde au fost accidente in ultimii trei ani. In astfel de zone, ar trebui sa fie semne care sa te avertizeze de posibila lor plasare.
Aceste camere sunt de mai multe feluri, ele se pot gasi in masini cu/fara inscriptia politiei pe ele sau pot fi utlilizate de ofiterii politiei folosind un pistol radar sau pistol cu laser.
Care este raza de actiune a camerelor mobile?
Pe o line dreapta, raza de actiune a camerelor este de aproximativ 1 mila. 
Poti fi prins in spatele altei masini?
Atata timp cat cel care foloseste camera mobila, poate sa te ia la tinta, va putea sa vada viteza cu care mergi.
Diametrul razei laser pe care o foloseste camera mobila poate fi chiar si de 10 cm. Asta este motivul pentru care ei pot vedea cu cat mergi chiar daca esti in spatele unei masini.
Cand trebuie sa incetinesti la o schimbare de limita?
Daca viteza maxima se schimba pe parcursul drumului, trebuie sa ai aceea viteza in momentul cand treci de semn.
De exemplu, daca normal pe o strada este o limita de 70 m/h si se vad semne care spun ca viteza ar trebui sa fie 50 m/h, trebuie sa incetinesti inainte sa treci de semn, nu dupa.
Se poate detecta viteza daca politistul este pe partea cealalta de sosea?
Raspunsul este da. Pistolul cu laser, din dotarea politistilor, poate inregistra cu exactitate viteza la care merge o masina atat timp cat raza este indreptata spre ea.
Camerele pentru viteza medie (Average Speed Cameras)
Camerele pentru viteza medie (SPECS) au fost introduse in 1999 si de atunci numarul lor este in crestere pe strazile din Marea Britanie.
Ele functioneaza cu ajutorul tehnologiei ANRP (Automatic Number Plate Reading) si este nevoie de doua camere pentru a detecta daca ai depasit viteza legala. 
Cele doua camere inregistreaza ora la care ai trecut de ele si cu ajutorul unui computer se poate calcula viteza medie la care mergeai pe aceea portiune.
Camere pentru limite care variaza (Variable Speed Cameras)
Variable Speed Cameras le gasim deobicei pe autostrazi, in special pe smart motorways (M25).
 Ele se folosesc atunci cand se intampla ceva in trafic (accident, ambuteiaje, etc.) sau in caz ca vremea este nefavorabila.
Se situeaza deaspura grilelor de pe autostrada; limita de viteza pe care nu trebuie sa o incalci este afisate pe panourile grilei.